Harb Design Gallery Kitchen
Renovation Services
Full Service Kitchen Remodel Company Proudly Serving the Burlington, Oakville and Milton Area since 1958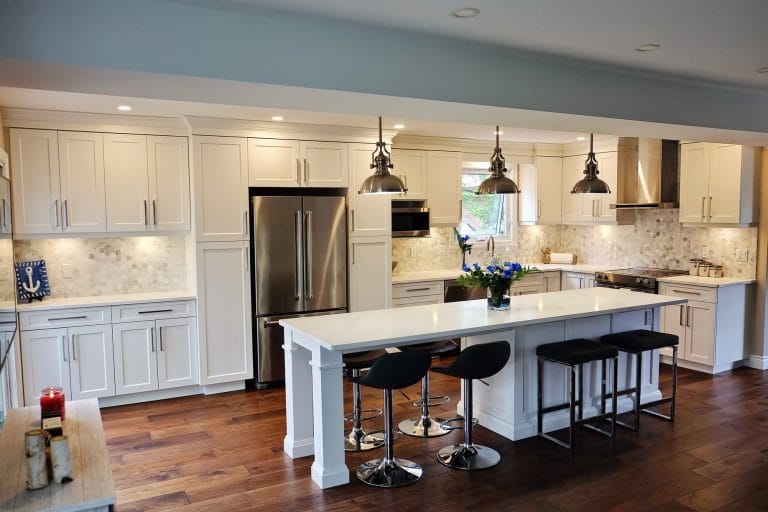 Kitchen Remodel Ideas for Your Home
The kitchen is the heart of the home and that's why choosing a kitchen remodeling contractor that is transparent and experienced is a top priority. Without proper planning and budgeting, the total cost of a kitchen remodel and other home renovations can get out of hand. Our friendly and knowledgeable team at Harb's design gallery will guide you through the entire process step by step.
We'll make all your kitchen design ideas come to life on-time, and without compromising your budget. We are a full-service design contractor with a reputation for customer satisfaction and top-quality craftsmanship
Choosing a Kitchen Decor Style that's Right for You
Having a custom kitchen installed is one of the best ways to increase the value of your home and maximize the enjoyment of your new space. The needs of each client are carefully assessed by our designers before beginning each new project so we can recommend suggestions that are useful and reassuring to you.
Choosing a kitchen design style to suit your home's presentation is a very important step when considering your custom kitchen remodel. Do you prefer a modern kitchen design complete with white cabinetry, quartz countertops and cool, sleek colour tones? Perhaps a traditional style kitchen design that includes warm, neutral tones and granite countertops?
If neither of these sound like your ideal kitchen style then choosing a transitional kitchen design will suit your home best. With natural materials, clean lines and a relaxed feel, transitional kitchen design's combine the beauty and elegance of traditional kitchens, and the trendy touches of a modern kitchen into a beautiful contemporary kitchen masterpiece with pops of color.
Let's build something beautiful for your home today!
Kitchen Design Ideas for Small Kitchens, Big Kitchens, ANY KITCHEN LAYOUT DESIGN!
Finding the right kitchen layout is the first step in designing a functional and practical kitchen space for your home. While the floor plan of your home generally determines the layout of your kitchen this does not mean that all kitchens cannot be optimized for functionality.
For those with limited kitchen square footage, planning a kitchen with custom cabinets can be frustrating and time consuming. Hours spent planning can result in designs that are less than desirable and lacking in storage and functionality. That's why choosing a professional and experienced kitchen planner from Harb Design Gallery ensures that your kitchen is stylish, and ergonomic.
During your free cost estimates, our team will:
measure the size of your kitchen
discuss and plan the placement/addition of appliances, cabinetry, storage spaces, and islands
address any kitchen layout concerns you may have to ensure maximum satisfaction with the design before we begin the remodel
You can have the kitchen of your dreams with Harb's Design Gallery!
View the Gallery page for beautiful modern kitchen design ideas!
We're a Top Rated Kitchen Renovation Company for a Reason!
With over 50 years in business, Harb's Design Gallery has seen it all when it comes to kitchen layouts. We provide workmanship of the highest quality so you can rest easy knowing that your home is in the right hands. We know how to utilize every inch of your kitchen based on your needs, budget,and style. Whether you're in need of storage solutions for a small kitchen, remodeling ideas to increase home resale value, or a modern kitchen design, we make renovating your home stress free.
If you have any of the following then Harb's Design Gallery is your top choice for kitchen renovation contractors near you:
● U-shaped kitchen remodels
● L- shaped kitchen designs
● one wall kitchen designs
● galley kitchens
● peninsula kitchen
● island kitchen design
● Breakfast nook
● or a custom shaped kitchen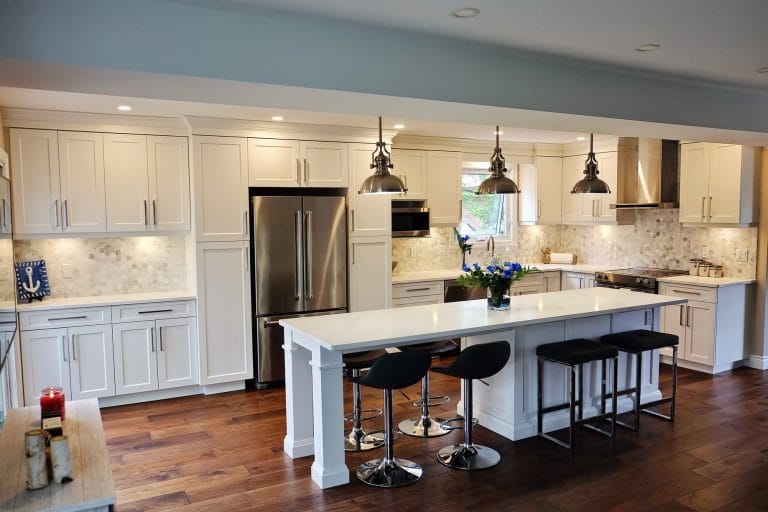 Call or email us today for your free quote!
Frequently Asked Questions (FAQs)
What is the average cost of a kitchen remodel?
A lot of factors including how many kitchen cupboards, labour, style of cabinetry, countertop material, flooring and kitchen size go into determining the total cost of your kitchen remodel.
Before we design a kitchen for you we take into consideration some key factors such as:
How many people use the kitchen at the same time

How much storage and cooking space is needed

How many appliances are needed in the kitchen

What activities are carried out in the kitchen aside from cooking such as laundry, meal planning, and eating.

No two kitchens should be the same because no two families are the same, our design experts will address all your concerns and questions during an in-houe estimate.
Contacting us for a free-no obligation quote for an exact figure is the best choice when planning your kitchen remodelling budget.
I need a plumbing contracting service during my kitchen remodelling project. Does Harb Design gallery have in house plumbing services?
Absolutely! We have been in the plumbing business for over 50 years and that's what makes us your top choice for a one-stop-shop kitchen renovation company. Check out our plumbing website  for more information
Should I reface or replace my cabinets?
Depending on your budget and desired outcome, refacing your cabinets may be a viable option to upgrade your kitchen while saving money. With refacing, expect to pay half the cost of replacing. Refacing kitchen cabinets is best suited for those who like the current style of their kitchen but want to change their colour palette and those who are satisfied with the functionality of their kitchen.

Replacing is best suited for clients who have storage issues, or want to change the style of their kitchens entirely
Contact us today for your free quote and we'll get back to you ASAP!
14 - 4380 South Service Road, Burlington, ON L7L 5Y6